You can easily merge SUPPLIERS & CUSTOMER NAMES, ITEMS & ACCOUNTS IN Reckon Accounts.
If you find a supplier or customer entered into your Reckon Accounts system with two different names eg. Joe Blogs Lawnmowing Services (Company name) and Joe Blogs (Individuals name) and they are one and the same business then the easiest way to fix this is by simply merging the two into one. This will mean that all transactions that have been entered against both list items, will now be entered against the one chosen list item.
To do this go into your Supplier/Customer Centre, select one of the names (the name you want to keep) and edit it. Highlight the "supplier name" at the very top (if necessary change it first so it is exactly how you want it to be recorded).
Hold down the "Ctrl" key (bottom left of your keyboard) and the "C" key at the same time. (This is a keyboard shortcut that can be used in most applications in your computer to "copy" the highlighted area – particularly useful in places such as Reckon Accounts where the "copy" mouse key is not there for you to choose).
Then go to where the supplier/customer has been entered in the list a second time and highlight the same "supplier name" field. Hold down the "Ctrl" key and the "V" key at the same time. (This is a keyboard shortcut to paste). It will paste the name exactly the same as the first entry. Choose "OK"
The following message will then appear on your screen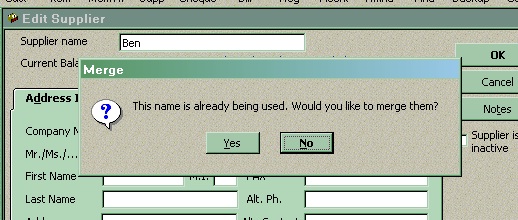 Choose "Yes" it will merge all entries into the new name and you will be left with only one supplier/customer in your system.
This same method can be applied in your Chart of Accounts and your Items list to merge doubled up accounts and items. This can be useful to tidy up a Chart of Accounts or an Items list that has got untidy and overcrowded.