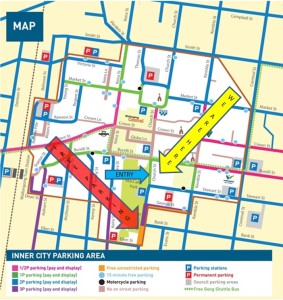 Wollongong Centre Map
The K.I.S. Accounting Systems Training is held at the Diamond Office Suites in Burelli Street, Wollongong.
The exact address is:Diamond Office Suites
Lower Ground Floor,
Diamond Plaza, 65-67 Burelli Street
WOLLONGONG  NSW  2500
The best entry to Diamond Office Suite is from Church Street. Just North (or to the left if you are facing the building) of the front entrance of The Illawarra Leagues Club you will see a small carpark with a boomgate entry. Walk through the carpark to the end and then turn left and you will see the doorway into the Diamond Office Suites. It is signposted both on the wall at the end of the carpark and on the doors themselves.
You will find free parking down Church Street less than 5 minutes walk from the entry to the rooms. You will need to park South of Bank Street to be within the free parking area. Anything further up is paid parking with parking meters, as per the map shown.
Once you arrive there is a seated waiting room near the entry, where you can wait until you are shown into the training room. There is an area just next to the Waiting area where you can help yourself to tea, coffee and juice, while you are waiting.